Size:
256 pages
Fanfani, Alberto & Rossi, Walter, Simon & Schuster's Guide to Orchids, A Fireside Book, Simon & Schuster Inc., New York, 1988.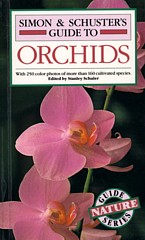 J
This Simon & Schuster guide is a pocket-size encyclopedia of 162 orchid species. Each entry is illustrated, has a very brief description of cultural conditions, and symbols for temperature levels, light intensities and fragrance of the flowers.
L
It's not more than a fun introduction into the variety of orchid species - for more information, get another book.