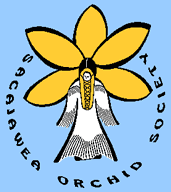 It was held at the Gallatin Valley Mall, in front of JC Penny's, and featured two sellers: Katz-Thompson Orchids from Belgrade, and Charlie Spinelli's Phalaenopsis from Amsterdam.

Several other orchid societies were present: the Great Divide Orchid Society from Helena, the Orchid Society from Billings, and the Orchid Society from Missoula.

There was also Orchid Art by Rose Toth and Cheryl Farmer, both Bozeman residents.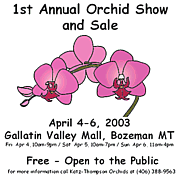 The plant show was amazing - since we didn't know what to expect, we just hoped to have enough orchids to give a good impression - but we ended up with 156 plant entries, enough to make an impressive display of very different types of orchids, in all shapes and colors.

Interested to see some pictures?
Here are your options: