On our website, you will find coming and past events, our favorite orchid-related links, basic information on orchid growing, and, of course, gorgeous pictures of our members' plants.
2019 Orchid Show Highlights

2020 SOS Orchid Show & Sale coming next spring <! Friday April 24 thru Sunday April 26, 2020 >
At the Gallatin Valley Mall in Bozeman, Entries from the community will also be greatly appreciated.
2020 Orchid Show Preshow information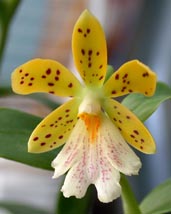 Oerstedella wallisii, whose lip made us think of Sacajawea, is our club mascott orchid.

What to expect from SOS:
First of all, we meet other orchid growers of our region, and share our knowledge and our questions about growing all kinds of orchids.
We plan an orchid show once a year, and try to attend several shows around the state in turn.
From time to time, we invite a well-known orchid grower to speak about his or her experience, or we rent slide-shows or videos from the American Orchid Society to subjects that we're especially interested in.
Finally, we bring and show our orchids in bloom, just for the joy of sharing their beauty with everybody!

Current SOS Officers:
President (and primary contact): Charlie Spinelli (406)282-7621
Vice President: Sue Spinelli
Treasurer: Tia Persson
Secretary: Arleen Cannon
Librarian: Nora Brunner (SOS Library catalog is on theMeetingspage)